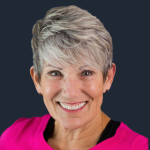 Was $259 Now Only $159
Thursday, March 9
10:00am-6:00pm ET
9:00am-5:00pm CT
7:00am-3:00pm PT
As millions of baby-boomers enter their golden years, staying mentally, socially, and physically active is the key to maintaining quality of life. Cutting-edge research reveals there's no secret to aging well. By focusing on mental health, cardiovascular conditioning, strength training, flexibility, fall prevention, and balance, we can slow the aging process. Discover ways to empower seniors, not just teach them. Group fitness instructors, trainers, and managers overseeing active aging programming will enjoy this one-day course that combines relevant research and proven practical approaches to training brains and bodies of 50+ year-old participants.
Certification includes practical training, comprehensive manual and online examination.
CECs: SCW (8.0), ACE (0.7), ACSM (8.0), AEA (4.0), AFAA (7.0), NASM, (0.7).
If you can't make the Live Cert, take the course ONLINE HERE.